One-room transformation.
This project is notable as much for what it subtracts as by what it adds. Upon leasing their Boston office space in 2021, Novak Francella inherited a cramped, windowless two-room reception. Combining these two rooms was the obvious first step to give this prominent accounting firm a more elegant and welcoming reception space.
The design goes several steps further. Along the corridor, we replaced drywall and a hollow metal door with an all-glass entrance system, extending the sense of space into the corridor and giving the tenant visual prominence from the elevator. Within the existing reception, we removed the carpet that had been installed over hardwood flooring and patched a section of flooring that had been infilled with plywood. Now, the restored continuity of floor finishes reinforces the visual and spatial extension of the space. We also removed existing plaster ceilings to expose the building's concrete rib structure. Given a shallow floor-to-floor height of 11 feet, this simple move dramatically enhances the perceived height of the room. And we stripped away a tangle of surface-mounted conduits and outlets, giving the new space a much cleaner and more intentional look.
Novak Francella Reception Renovation
Clients: Ladies' Garment Worker's Center, Inc. (owner) and Novak Francella LLC (tenant)
Location: Boston, Massachusetts (U.S.A.)
Renovation Area: 280 SF
Completed: 2022
Services: Architecture, Interior Design, Lighting Design, Furniture Selection, Custom Furniture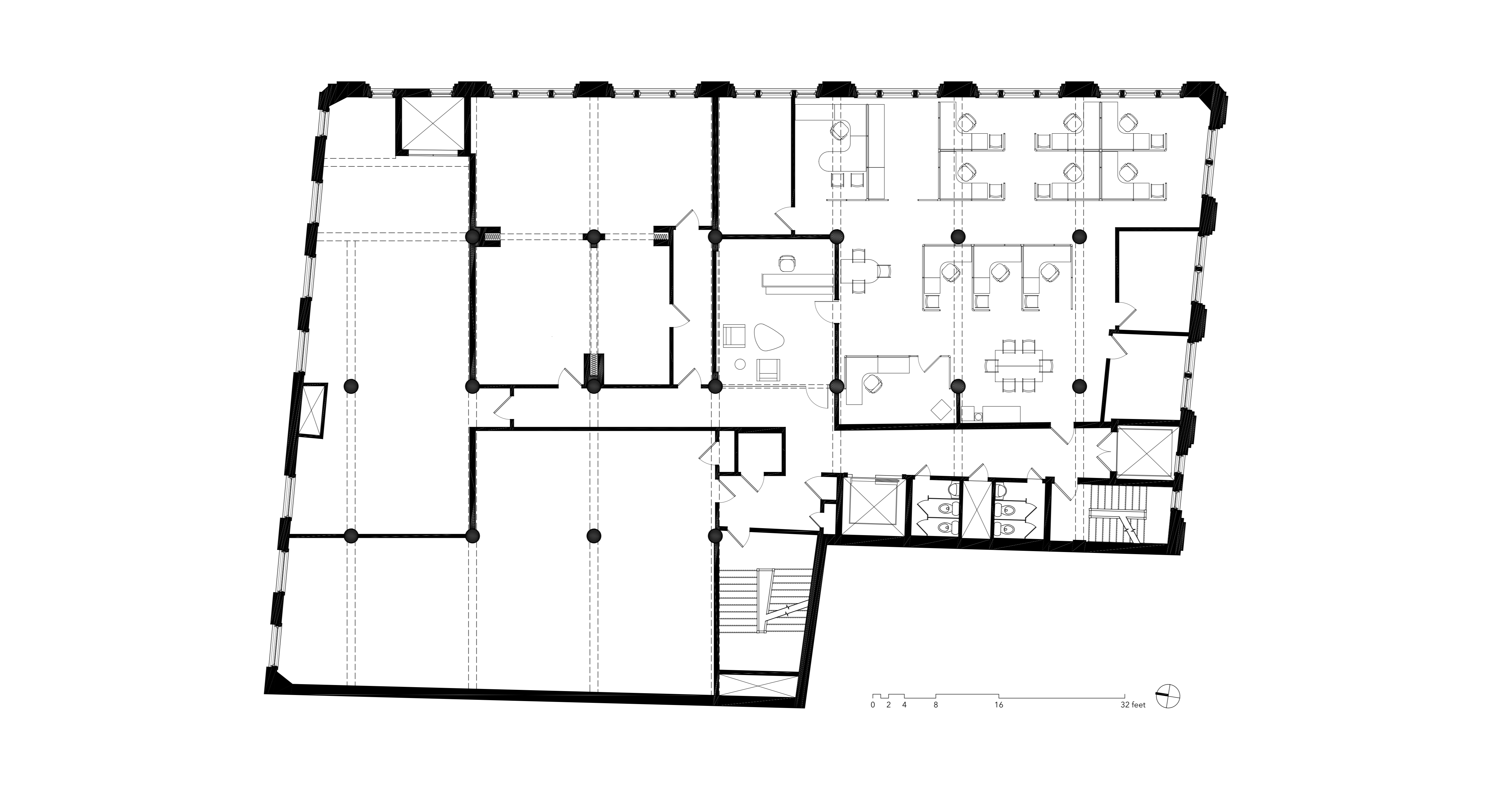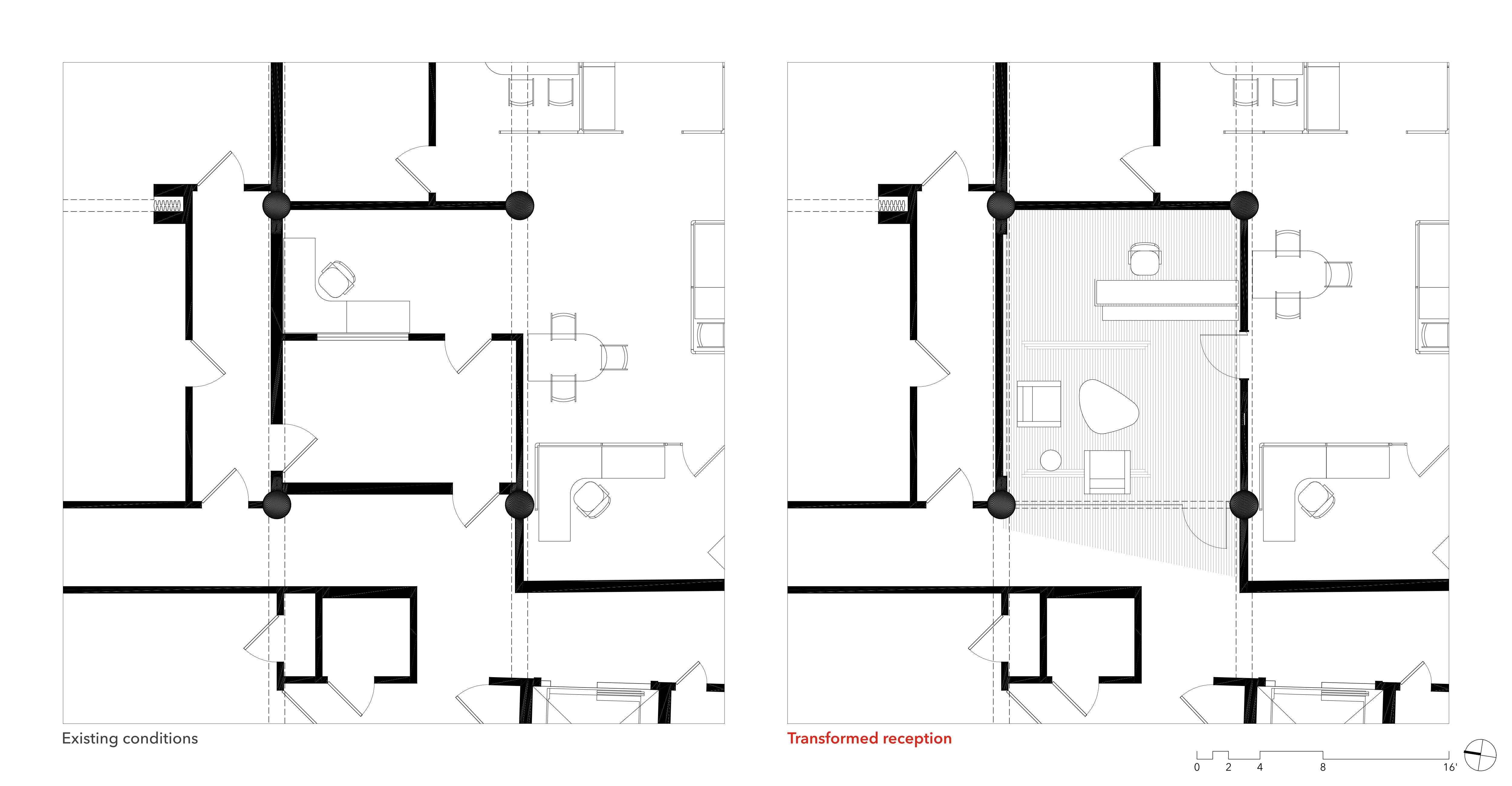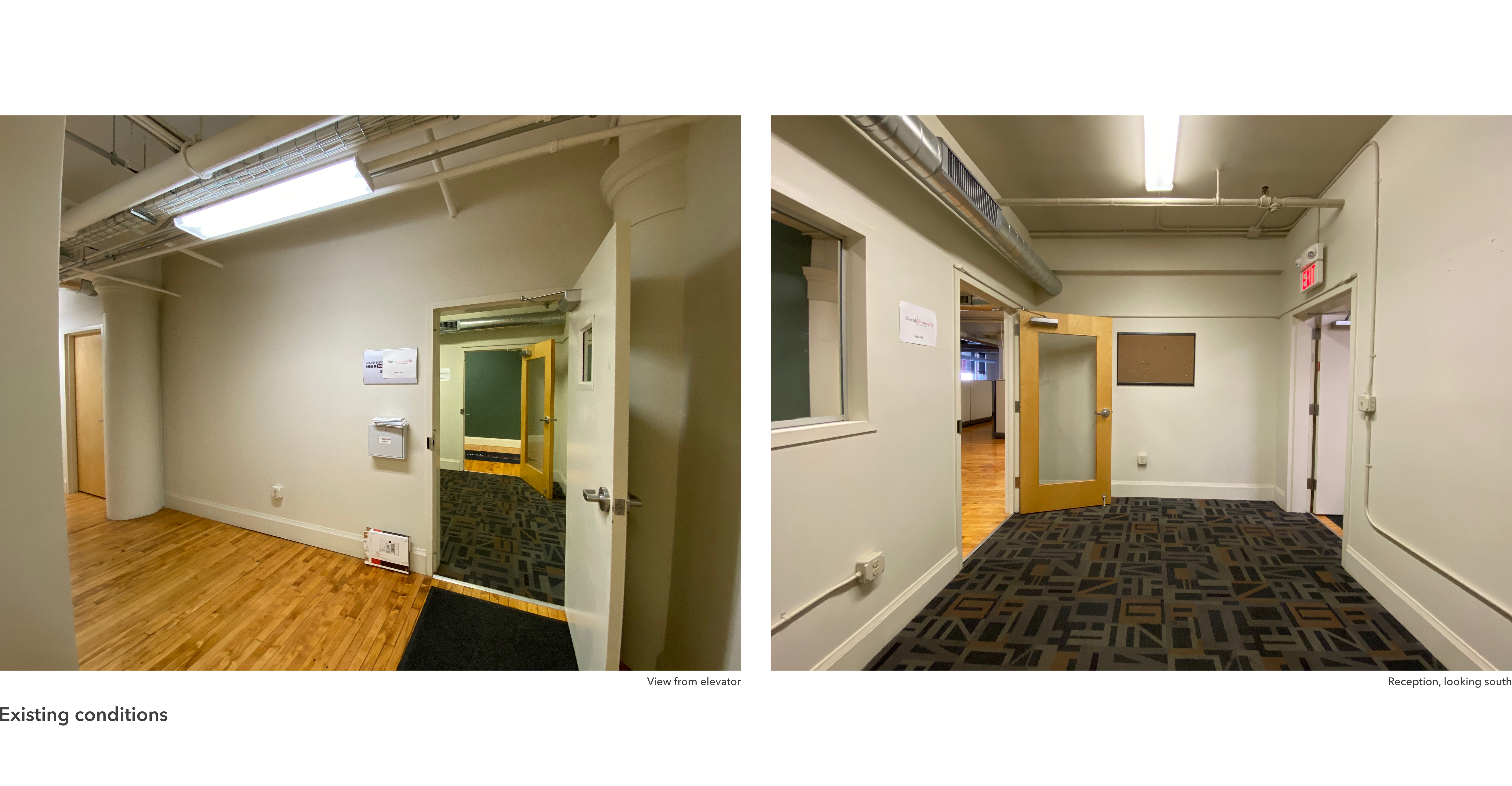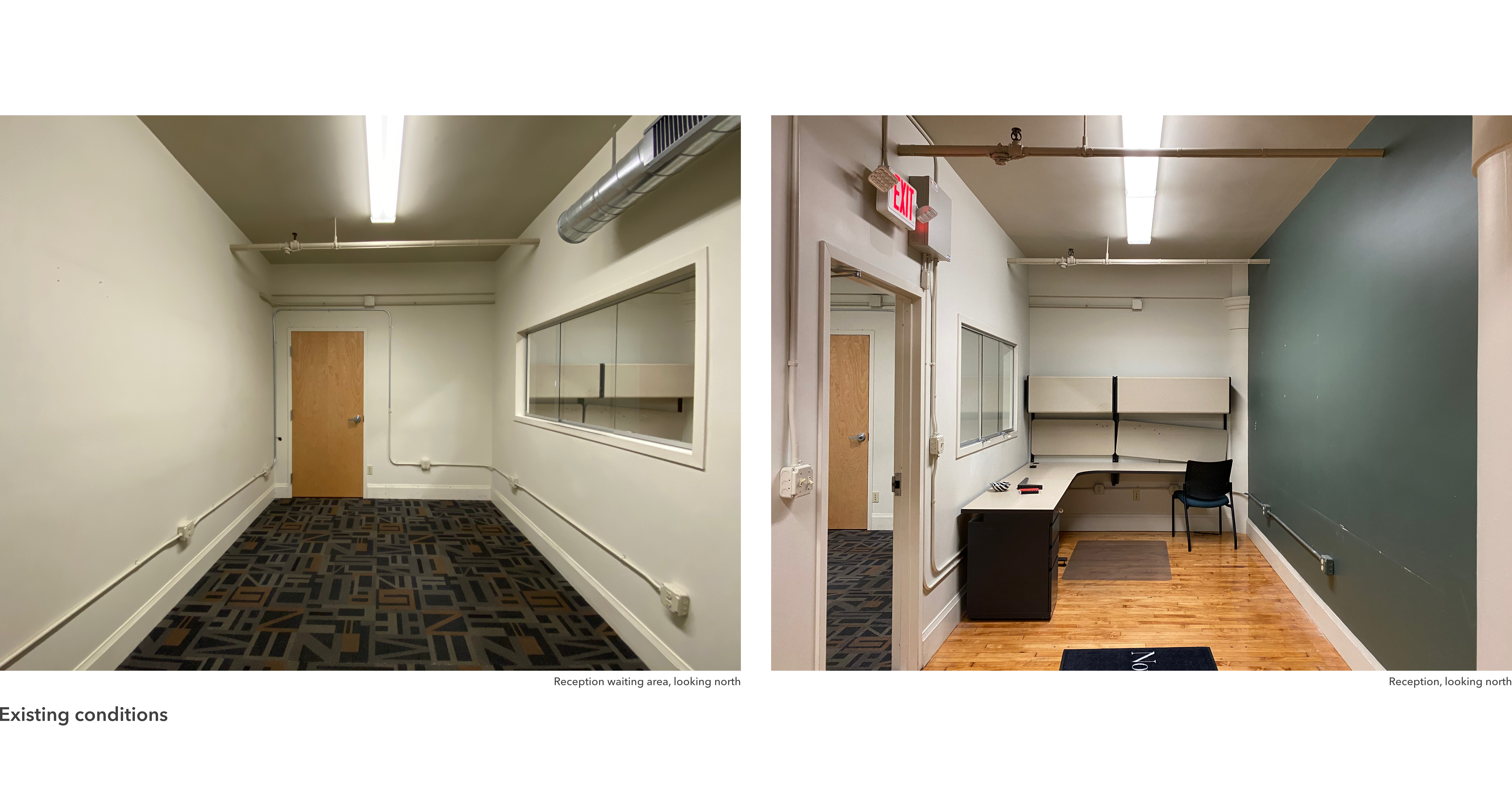 Click / swipe for more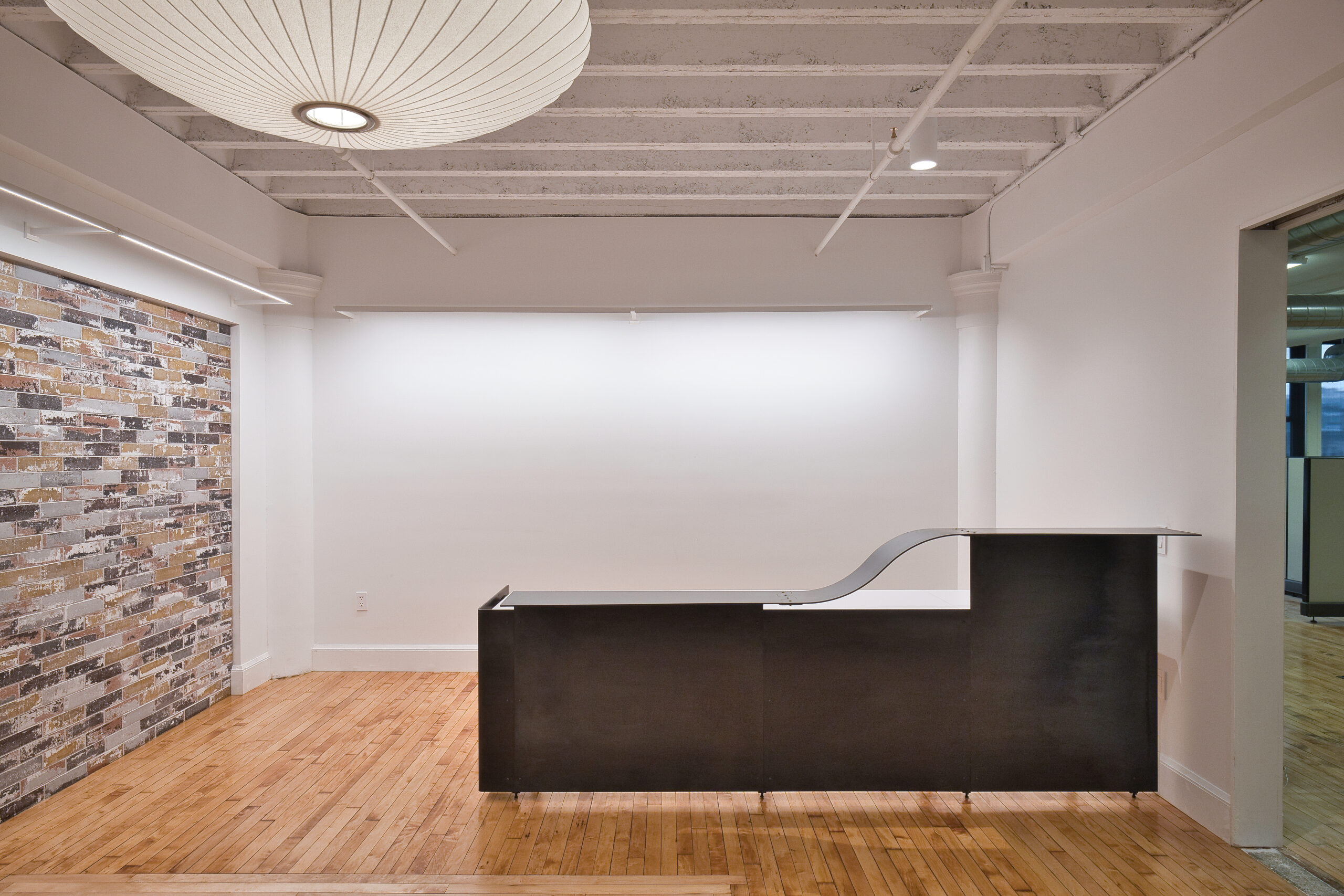 The client initially expressed interest in having an industrial aesthetic for their new reception, an aesthetic that was already latent in the building's exposed mechanical and electrical systems. The interior design reinterprets "industrial" by providing a very spare, refined space with an emphasis on materials and texture: a distressed brick tile feature wall, exposed concrete structure, and newly refinished wood floors. Within this minimalist "loft," the focus is on the furniture: classic Mid-Century Modern pieces for the seating area and a custom-designed and fabricated reception desk.
Crafted from ¼"-thick blackened steel plates, the design of the desk is conceived as a single sheet that has been cut, folded, bent, and spliced into a singular form. The swooping counter is the primary gesture that unites a bar-height counter, giving some personal desk space to the receptionist, with an accessible-height counter, which also provides good sightlines to and from the seating area. Architect and fabricator Parke MacDowell, AIA collaborated with MCA on the design and detailing of the desk and was responsible for fabrication and installation. The end result is a compelling focal point for this newly transformed reception space.
Project Credits
Mark Careaga Architecture LLC